When you run a busy kitchen, business survival depends on the ability to quickly detect and suppress fires. Triangle Fire provides total system expertise to address this unique safety hazard.
Our in-house experts bring together all the elements you need for fire protection systems in your commercial kitchen.
Our services include:
* Detailed Consultation
* Plans, Permits, and Approvals
* On-Site Coordination and Installation
* Test and Final Inspection
Applications Best Suited for Ansul R-102 Fire Suppression System
Casual and  Fine Dining
Diners
Fast-Food Chains
 Retail Food Courts
Convenience Stores
Hotel Kitchens
School, College, and University Cafeterias
Sports Complexes and Stadiums
The following manufacturers have quality kitchen fire suppression systems:

R102 Fire Suppression System:
ANSUL R-102 Fire Suppression Systems discharge ANSULEX® Liquid Fire Suppressant, quickly knocking down flames and cooling hot surfaces, while generating a tough vapor securing blanket that helps prevent reflash. With a nearly neutral pH, ANSUL R-102 systems are exceptionally friendly to cooking equipment.
ANSUL R-102 systems are offered in two basic designs: appliance-specific, in which nozzles are aimed at specific hazard areas of each appliance; and overlapping, where nozzles are arranged to overlap and provide a "fire-free zone" throughout a group of appliances. Depending on the kitchen line-up, your trained ANSUL distributor can design, install and service a system that offers the ultimate protection for specific facilities.
Piranha Fire Suppression System:
The only agent-plus-water fire suppression hybrid on the market today, ANSUL PIRANHA systems outperform all conventional single-agent systems on a number of fronts. ANSUL PIRANHA systems attack fire using the rapid flame knockdown and securing capabilities of PRXTM Liquid Fire Suppressant. Then, the superior cooling effects of water follow, quickly cooling the cooking media and further helping to prevent reflash.
In UL300 testing, the ANSUL PIRANHA system cooled hot grease 15 times faster than single-agent wet systems, required 60% less chemical agent, covered hazard areas better and provided a cost-effective means to protect the cooking equipment.
ANSUL PIRANHA systems are available in various sizes that can be combined for multiple configurations to expand the suppression system coverage. Depending on your type of facility, your ANSUL PIRANHA distributor will design a system that offers you the ultimate in fire protection.
ANSUL® PIRANHA® systems employ the best firefighting attributes of two extinguishing agents…
The fast flame knockdown and securing power of wet chemical.
The fast cool-down capability of water.
Tests using the "Double-Agent" Concept have shown dramatically increased firefighting performance…
Twice the coverage of conventional single-agent systems
Cools down cooking oils 15 times faster than wet chemical systems
Flexible overlapping nozzle coverage for most appliance arrangements
Smaller and fewer agent storage tanks required per system

Amerex KP Restaurant Fire Suppression System
The Amerex KP Restaurant System is a pre-engineered, wet chemical, stored-pressure type with a fixed nozzle agent distribution network. The system agent is Amerex KP liquid fire suppressant, a potassium acetate based solution that suppresses cooking grease fires both through saponification and cooling. The agent has a pH of 9 or less and does not harm stainless steel surfaces. 

When a fire starts, the detection network, consisting of fusible links or pneumatic tubing, will automatically detect the fire or the manual pull station can be used, releasing a low pH agent throughout the hood, duct and onto the appliances. Either method of actuation will interrupt gas or electrical power to the appliances preceding system discharge. The Amerex KP agent quickly suppresses the fire and cools the fuel while securing the vapors with a smothering foam reaction.
Applications Best Suited for Amerex KP Restaurant Fire Suppression System:
Casual Dining
Fast-Food Chains
 Cruise Ships
School Cafeterias
Amerex ZD Restaurant Fire Suppression System:
The Amerex ZD Restaurant Fire Suppression adds greater flexibility by letting you reconfigure a kitchen or move appliances without moving nozzles. Because of its adaptability, this system is the most cost effective choice over the life of the system.
Buckeye Kitchen Mister Fire Suppression System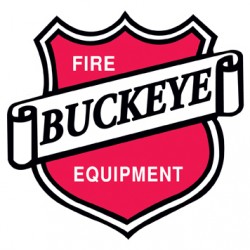 Utilizing state of the art misting technology, the Kitchen Mister System extinguishes potentially deadly kitchen fires fast, before they can spread. The uncomplicated design of the Kitchen Mister System all but eliminates design and installation errors by combining common sense features and eliminating confusing design requirements.
PyroChem's Kitchen Knight II System
The fire extinguishing agent is a potassium carbonate-based water solution that knocks the flame down, cuts off air to the burning grease and cools the hazard area to ensure the fire stays out.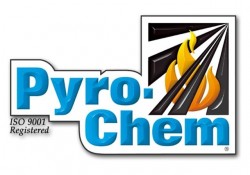 PyroChem's Kitchen Knight II System offers:
Automatic detection and actuation controls provide 24-hour protection.
Dedicated manual pull station allows immediate actuation at the first sign of fire and provides backup to the automatic detection system.
Premium extinguishing agent provides rapid flame knockdown and helps prevent re-ignition.
Pressurized D.O.T. rated steel cylinders ready for release in the event of a fire.
Pressure gauge on the agent cylinder allows visual inspection of system status.
Fully assembled and 100% tested mechanical control head, cylinder valve, and gas shut-off valve provide reliable operation.
Flexible piping configurations allow for a streamlined design that will not interfere with kitchen workflow. The system can be mounted in out-of-the-way areas to preserve valuable kitchen space.
Flexible conduit allows for ease of installation. The conduit is easily hidden behind existing pipes or behind the wall.
Protective chrome nozzle caps help protect against contamination and blockage by grease or other cooking byproducts that can inhibit the proper discharge of extinguishing agent.
Tested and approved by the most particular connoisseurs
The KITCHEN KNIGHT II system is available in a variety of sizes economically suited to fit specific needs, and designed with the flexibility to accommodate changes to appliance layout or the expansion of a cooking area.